2023 | NEW Dodge Hornet | Welcome to the Hornet's Nest | Experience the Hornet Reveal | Canada's #1 Stellantis Retailer | For Sale in Toronto & Mississauga
2023 Dodge Hornet | GT | R/T

Dodge will be re-entering the small crossover market with the 2023 Dodge Hornet; Welcome to the Hornet's Nest! Sharing a platform with a Stellantis-company cousin, the Alfa Romeo Tonale, it is a completely new design in the Dodge line-up. Contact us at 866-652-6197 or CLICK HERE to JOIN THE SWARM
Welcome to the Hornet's Nest | Experience the Hornet Reveal | Nobody Beats a DEAL from PEEL

Why Buy From Peel Chrysler in Port Credit, Mississauga?

At Peel Chrysler we have grown to be Canada's #1 Stellantis Retailer for 7 consecutive years! Our amazing staff has a combined 100s of years of Chrysler, Jeep, Ram, Dodge, and Fiat experience. With our extensive product knowledge we can help find the perfect car, truck, or SUV for you.
Used Ram 1500 For Sale in Mississauga, Port Credit, Toronto, GTA, Ontario, Canada. Peel Chrysler in Mississauga, Ontario serves and delivers to buyers from all corners of Ontario and Canada including Mississauga, Toronto, Oakville, North York, Richmond Hill, Ajax, Hamilton, Niagara Falls, Brampton, Thornhill, Scarborough, Vaughan, London, Windsor, Cambridge, Kitchener, Waterloo, Brantford, Sarnia, Pickering, Huntsville, Milton, Woodbridge, Maple, Aurora, Newmarket, Orangeville, Georgetown, Stoufville, Markham, North Bay, Sudbury, Barrie, Sault Ste. Marie, Parry Sound, Bracebridge, Gravenhurst, Oshawa, Ajax, Kingston, Innisfil and surrounding areas
R/T Performance

The R/T will hit the streets as a Plug-In Hybrid, combing the best of both worlds; internal combustion with the immediate power of electrification. The Dodge Hornet will be the most powerful compact utility vehicle in it's class, and the R/T features a dedicated powertrain and standard All-Wheel Drive. The Plug-In Hybrid will delivery over 285 combined horsepower with 383 lb-ft of total torque. With an estimated 50 KM of battery powered driving, the R/T will certainly help you push the limits.
GT PERFORMANCE

The GT will feature a turbocharged 2.0 L 4-Cylinder with 265 horsepower; The Hornet GT will get to 60 mph in 6.1 seconds. All-Wheel Drive is optional in the GT. Already earning Best-in Blass power to weight Ration, enabling Sport Mode will get you hitting the streets in true Dodge fashion.
Design - Muscle Takes its Newest Formv

Combining utility and aggressive looks; The 2023 Dodge Hornet merges iconic muscle features and new age technology creating one of the best compact utility vehicles in it's class. Available Options Include:
20 Inch Rims Available with the Track Pack
Dual Exhaust Tips
Dodge Branded Brembo Brake Calipers
7 Distinct Dodge Colours
Interior - Performance At Your Finger Tips

Focusing on the driving experience, the driver-centric interior has all the comfort and technology to deliver the ultimate experience on the road. Some Best-in-Class options available:
Alcantara Seats
Steering Wheel Mounted Paddle Shifters
12.3 Inch Digital Cluster Display
Dodge Performance Pages
10.25 Inch Touch Screen
Semi-Auto PArking
360 Camera
Power Liftgate
Harman Kardon Sound System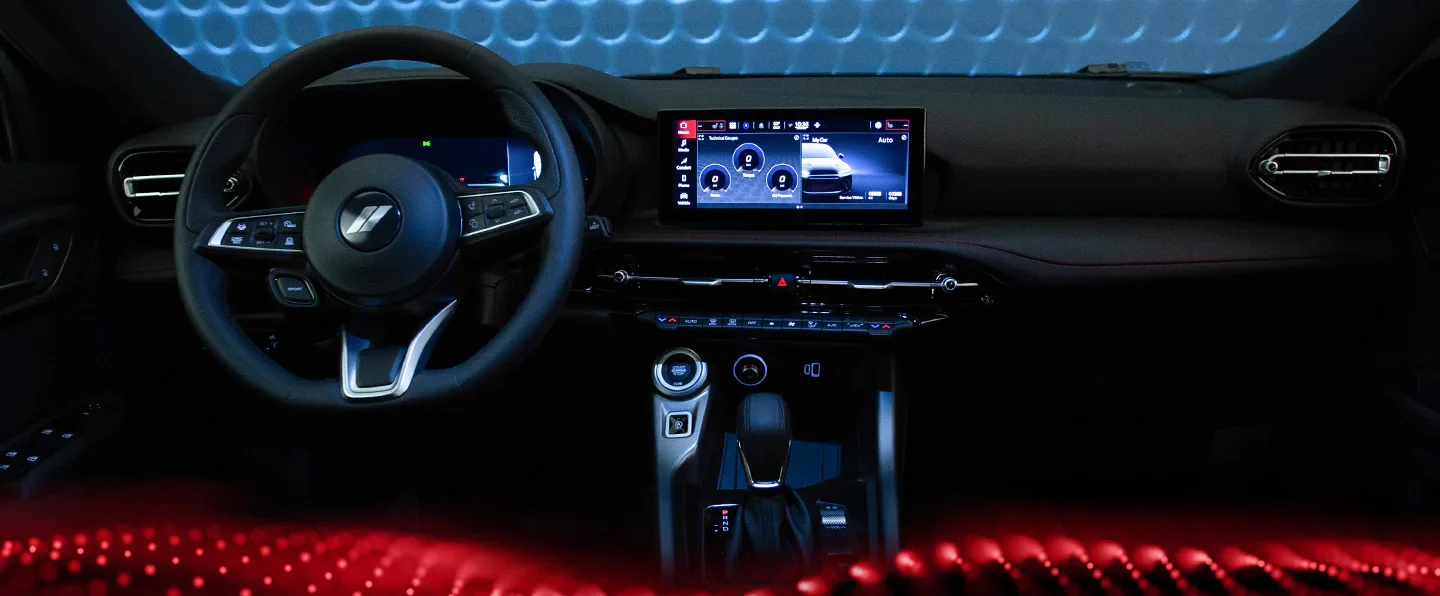 Safety - Defensive Jacket; Protection That's Always On

Across all-trim levels, the Hornet is loaded with standard safety and security features: Automatic Emergecy Braking, Lane Support Warning, Automatic Counter Steering, Blindspot Monitoring System. With the Tech pack, available features like Driver Attention Assist and Active Driving Assist gives you top of the line safety and security.
Other Features available with the Tech Pack include: Intelligent Speed Assist, Traffic Sign REcognistion, Drowsy Driver Protection, Park-Sense Front and Rear Assist System, 360 Surround View Camera
THE TRACK PACK

An available package for the 2023 Dodge Hornet is the Track Pack. Bonus features are unlocked with a dynamic driving experience. Some of the additional options include: 20 Inch Black Painted Wheels and a Dual Stage Valve Suspension. This helps the Dodge Hornet with increased handling ability. In the interior you'll find Alcantara Sport Seats and Aluminum Accents. The Track Pack truly offers high quality and pure confidence.